OK, here are the pics, and some information on my light bar mod, per the original version by SUNDUDE who learned from NA7A.
All information herein is in honor of these two individuals.
Lamps: PILOT - CYBER WHITE - NV501-W Driving Lights from Pep Boys, Just like SUNDUDE used. Approx $30
OK, first I redesigned the mounting angle, using a 14" long piece of 2"x2"x1/8" angle rather than a 1 1/2" angle. You will notice a slot in the center of the bottom leg for water drainage, as well as small holes on each end, that will be used for zip ties to hold down the wire harness.
This puts the inner bolt for each lamp right in front of the fork, but the 2" angle allows the mounting holes to be placed back far enough to let put the vertical lag of the angle out far enough for the bolt to clear the fork. I used 1/4" dia. by 3/4" long Stainless Steel bolts with fender washers and then regular washers on top of that to mount the lamp mounts to the angle.
The reason for all of the washers is that the mounting plate for the lamps are plastic, and I wanted to spread the compression load out over more of the surface.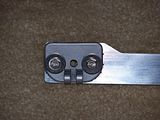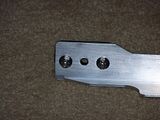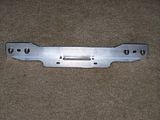 Than I mounted the lights, and added extensions to the black and white wires. To do this, I cliped off the connectors and used red inline crimps to connect the extensions to the existing lamp wires. The extensions were made long enough to bring together and extend together about 6". I also offset the ends of the white wire about 1 1/2" longer that the black to keep the connectors from ending up in the same location. I sliped the approptiate shrink tube over the wire paires, leaving about 3 inches of bare wires oncovered, and shrunk them doun. I then brought the white and black wires together, into the same end of separate red inline crimps. Than the white and black pairs were extended from the other end of the crimp with a single 8" peice of the same colored wire. Another peice of shring was then slid over the white and black wire and down over the shrink covering the wire pairs untill it reached the point of seperation to each side of the bracket. After shrinking this new tube I crimped red spade connectors to the now single black and white wire ends.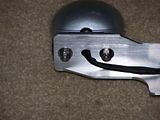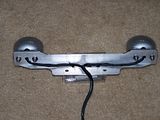 See next post for further information.