(Mods you may move this thread if not appropriate here.)
I wasn't sure if I should put this ride report in the Classics section, but since this is a touring thread thought it may be appropriate here as well, even though this is about a road trip I took in '72 so the bikes would be considered vintage today.
For everyone, the phrase "back in the day" is a relative term. Some of us here will be old enough to remember how it was over 40 years ago riding the same bikes we covet today. So I thought I'd jog some memories a bit by re-creating a road trip that happened over 43 years ago. I hope I don't bore you guys too much as I recall the events of one of my memorable times riding and being a part of the sport that's still gives me much enjoyment.
It seems like whenever I take out my '71 SL350, which I acquired a couple of years ago for a ride, it gives me a chance to wax nostalgic on a road trip I made during the summer of '72 with my older brother. He was riding a 1971 CL450 and I was on my 1971 SL350. It was my last summer of being single, so naturally I wanted to ride solo as well as rough it a little along the way. Looking back I'm glad my fiancée gave me her 126 film camera to take pictures with, since I had no inclination that I could be creating anything memorable for myself.
My '71 SL350 K1 and me (before gray hair:mrgreen
pic taken in Jan of '72
I had purchased a lightly used '71 SL350 in the fall of '71 thinking it would be a pretty good off road dirt bike. Very soon, I sure found out it was way to heavy for that, even though it had a much lighter frame and minus the starter that the earlier K0 model had. The bike still had less than a 1K miles on it, in the spring of '72, when the top end got wiped out from oil starvation. The dealer told me there was a recall on a gasket (I forget which one exactly but think it was the left case gasket) which blocked or partially blocked lubrication to the top end. Because I had bought it used they wouldn't repair it under warranty. Since I had just finished my classes at the Auto & Diesel mechanics school, I figured that little motor wouldn't even come close to intimidating me. So I pulled the engine out of the frame, behind the apartment I was living in, outside on the ground (no shop or garage in those days) then lugged it upstairs to my apartment and rebuilt the top end, changing cam shaft, rockers and cam bushings as well as the correct case gasket. Heck, I might of even got a little oil on the shag carpet.
oops:
The only modifications I made to the bike was to change the rear sprocket from a 40 tooth to a 36 tooth, giving me the same combination as a CB350. (about 62mph @ 6K rpm) Also adding a "sissy bar" to give me something to tie packs to and lean back on as well. I also U-clamped a Sears Craftsman tool box to it, for carrying a few tools as well as chain lube and some extra oil. As you'll notice we had no fairings, saddlebags, leathers or special gear everyone uses today. Our helmets had the then popular "bubble shield" and weren't full face either. Mainly we had to have a lot of faith in those little Honda's, as this was before cell phones, the internet and even carrying credit cards for emergencies.
Leaving Denver in mid July, we headed toward Canada and where ever the road took us. My brother was riding his '71 CL450. (completely stock except for a "sissy bar" as well)
The first day we made about 500 miles and camped out in our new pup tents along the Snake river between the Grand Tetons and Yellowstone. Next morning the bike seats were totally white with frost, ....which had me thinking, just how tough I really was.:shock:
The bikes at the north end of Yellowstone (Mammoth Hot Springs).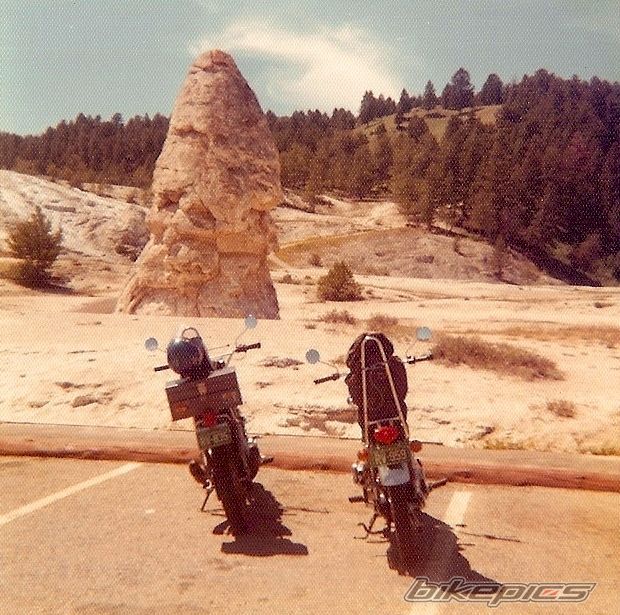 After spending some time in Yellowstone seeing all the attractions such as "ole face full" as well as the feeding of bears from the safety of your car. (which wasn't discouraged back then):madd: That had us constantly looking for an escape route in case the bears thought we had food as well, especially given the gridlock of cars we were trapped in, that were watching and feeding the bears. Next on the plan was getting to Glacier Nat. Park, Montana.
Gassing up in a ghost town somewhere in Montana.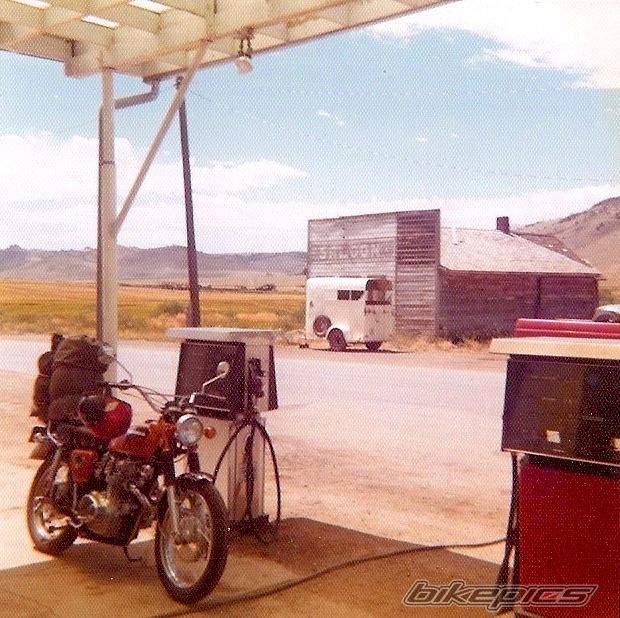 It was a nice ride until we ran into a huge hailstorm north of Missoula heading up to Flathead lake. We couldn't find anywhere to get out of the storm, not even a culvert while the sound inside our helmets was deafening as we were being pelted with nearly golf ball size hail. Lucky for us, a VW bus, painted up with peace signs and flowers that was full of hippies heading to San Francisco, stopped and let us get inside till the storm was past. I think they where some left over hippies from the "Summer of Love". Boy, the inside of that bus smelled like a barn full of hay on fire. We even had the munchies when we got back on the bikes. Of course I tried not to inhale.
My SL350 at Flathead Lake Montana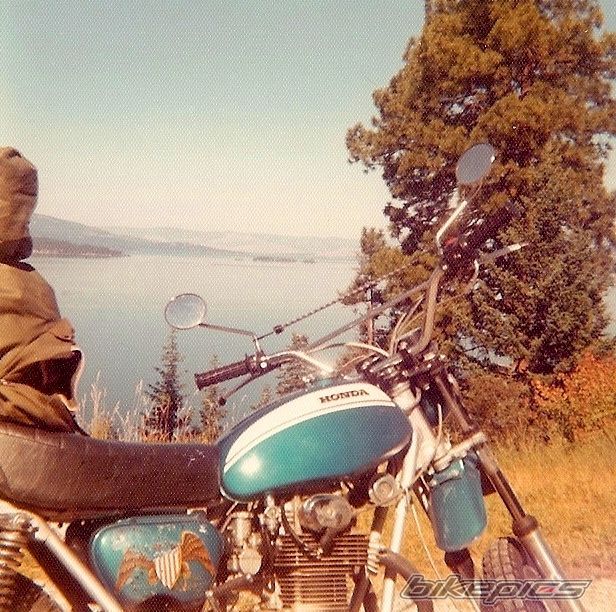 In Glacier Park, busy adjusting and lubricating chains.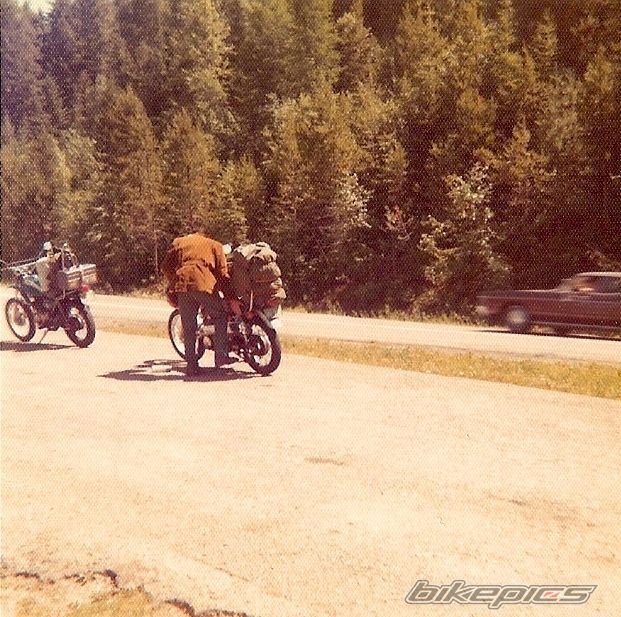 On the "Going to the Sun Road"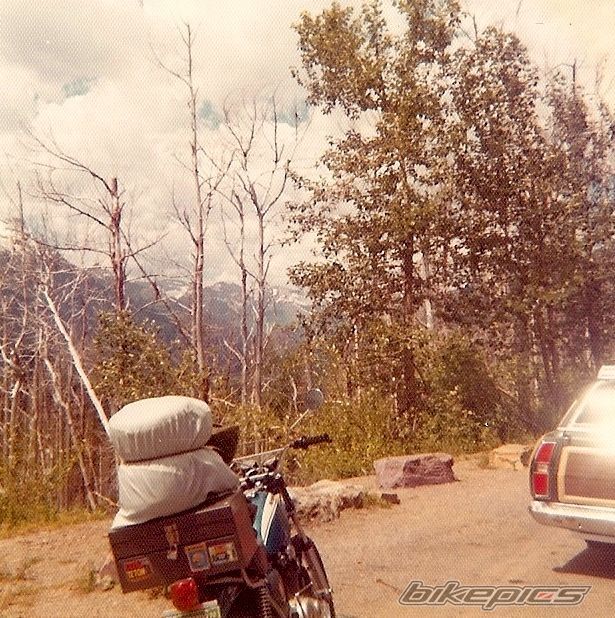 After leaving Glacier park we headed north on Highway 89 to 17 and crossed the border into Canada. Don't recall to much about that crossing except being asked how long we would stay and how much money we had.:???:
Finally getting to the border
to be continued.........