.....so back to the road trip
After crossing into Canada, we headed up to Waterton Park for the night. I don't recall the exact routes that were taken in Canada after leaving Waterton Park. Most of the trip across Canada seemed to involve gravel logging roads almost all the way across Alberta and British Columbia to Vancouver. We also had to deal with a lot of dust from the constant stream of trucks carrying timber.
Here's me on one to the gravel roads somewhere in British Columbia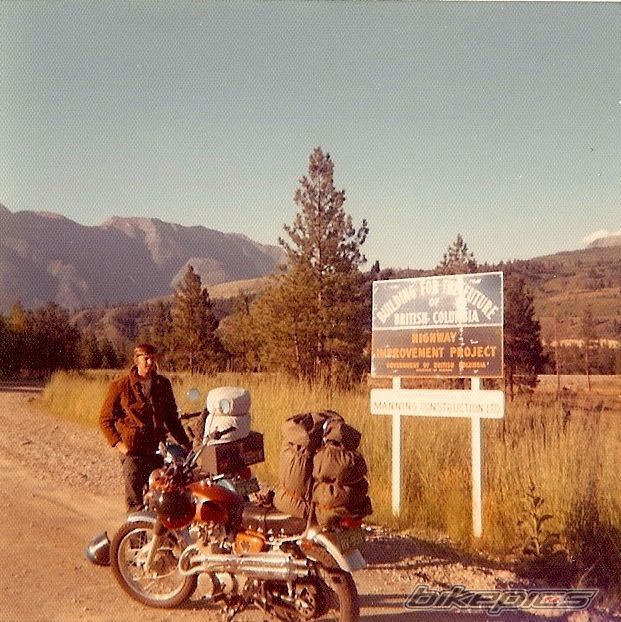 Once in Vancouver, BC it was time for a Hotel, since we'd been camping in various parks for several nights while riding across western Canada. I'd post some pics of the city, which by the way is beautiful, but the quality of the camera just doesn't do it justice.
From Vancouver we got a ferry boat ride to Victoria Island, which I remember as having many beautiful views riding from Nanaimo to the city of Victoria.
The bikes in the back of the ferry boat, last on first off
. We also took time to enjoy a cold Moose Head or two while riding the ferry.
My brother on the tail of the ferry, keeping an eye on the bikes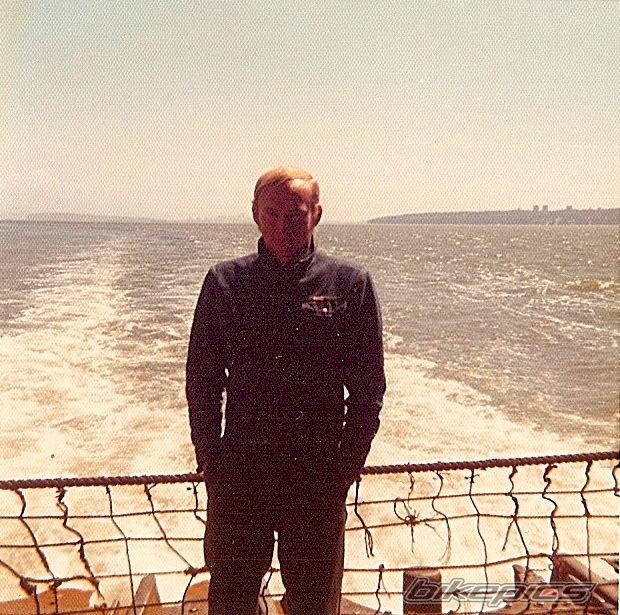 After some time on Victoria Island, we decided to catch a ferry to Port Angeles where we got the 3rd degree search re-entering the States. All our belongings were spread out for inspection and much interrogation as to where we'd been etc. No passports for us back then, just Drivers licenses. Maybe that was the problem.
Once back in the State of Washington we rode through Olympic Park and out to the coastline on HW 101, seeing the Ocean for the first time was pretty amazing for a South Dakota farm boy.
On the Washington coast line, viewing the Pacific Ocean.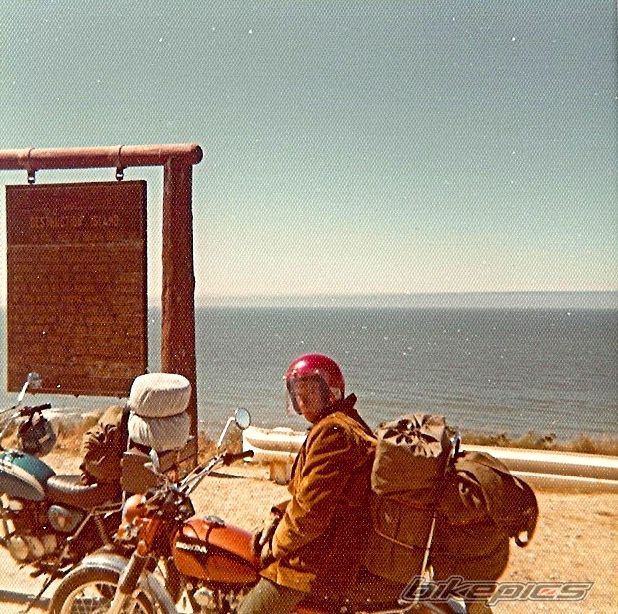 I recall somewhere along that part of the trip, thinking my engine was starting to get a little noisy (ticking more than usual), it was time to re-check the valve lash, but found everything was still doing great and must have been my imagination, much to my relief.
After spending some time along the coastal area's, it seems we were starting to lose track of day's. I remember being in a hotel in Yakima WA, on a Sat evening realizing I had to be back to work on Monday morning. So with over 1200 miles to get home we knew we had to pull an Iron butt ride (this was before we ever heard about such a thing) to get home in time. There would be no more 60 mph cruising....and using the interstate would now be necessary. So we left a couple hours before dawn, hell bent for Denver. We stopped for a quick power nap of about an hour on picnic tables in a rest stop near Mountain Home, Idaho and the only other stops were for gas, snacks, water and once for cleaning our bubble shields (yeah, no fairings) after hitting a swarm of bugs somewhere near Twin Falls, ID which looked and felt like yellow hail. With temperatures climbing into the triple digits, as we were approaching Salt Lake City, I remember being very uncomfortable inside those helmets. While in Utah, I recall passing a few Harley's and even a Triumph parked along the road dead. We rode right by one Harley rider stranded, trying to wave us down, but we were on a tight time crunch, plus who needs someone complaining about your "Jap" bikes when his bike is dead on the road dripping oil everywhere. I guess that was one of the 96% of Harley's still on the road instead of one that made it home.
Finally after reaching Colorado, cooler temps and dusk sort of rejuvenated us. Crossing Vail pass as well as Berthoud Pass at night isn't something I'd try today especially at the speed we were traveling. Remember this is before the Eisenhower Tunnel. At last, coming down Floyd Hill now seeing the lights of Denver was a great sight, as we had finally made it back. We rolled into Denver, just after mid-night for some quick Z's before heading off to work at 6 AM. I remember my ears were still ringing with the sounds of the 350's motor the whole next day. I had made 1241 miles in less than 22hrs, on a so called dirt bike. Kinda makes those fully equipped road hog riders of today bragging about Iron butt certificates look like pussies
. Sorry, but I was too busy riding hard to even take a picture on that run from the coast to home.
My only regret is not making more time and getting up to Alaska. Other than the repair needed due to a factory gasket screw up, that little Honda sure was dependable. (I checked and adjusted valves once as well as chain adjustments and lube) as mentioned earlier, I had also replaced the rear 40T sprocket with a 36T CB350 sprocket so I could run about 62 at 6K RPMs most of the way until the blast home.
I was finally lucky enough to put an SL350 K1 back into my collection a couple of years ago. Here's some photo's of my new, to me, nostalgic ride. Always had my eye out for another...as the good ones seem to get snapped up really quickly, and are hard to find with good original mufflers without all the dents!
Note the optional fork braces that my original SL didn't have.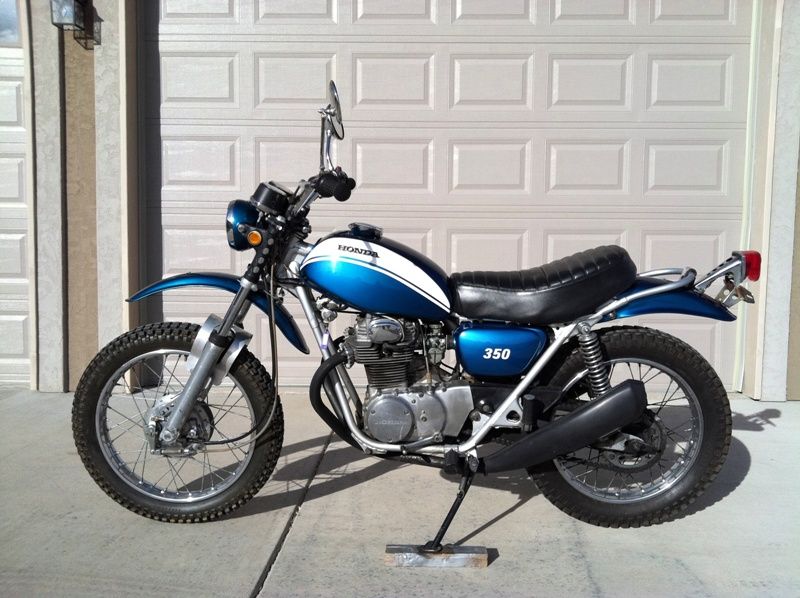 ....mileage was even reasonable!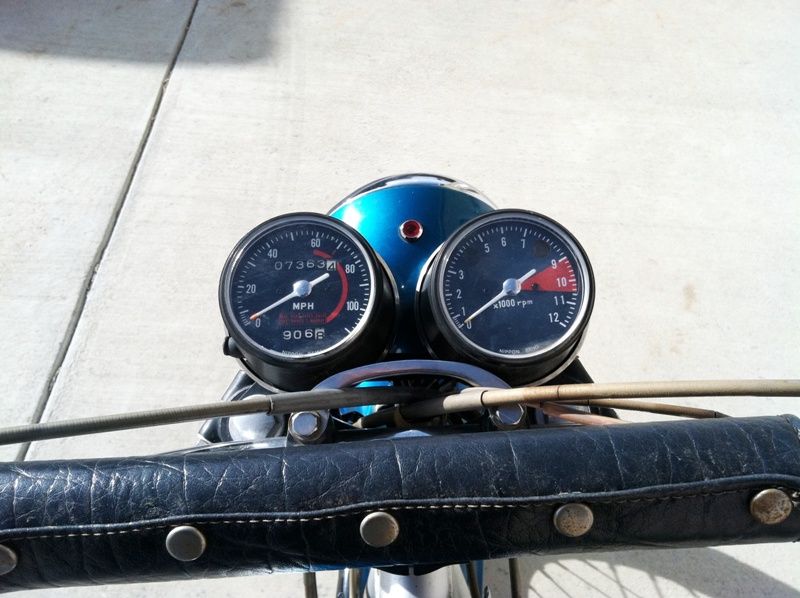 As a dirt bike the SL350 failed miserable IMO, but it was a very good handling bike on the many miles of gravel roads I rode it and I believe it should be recognized as one of the first so-called "Dual Purpose" or "Adventure" bikes ever made.....before the term or genre was even thought of.
I realized I still have the craftsman tool box, which was bolted on to the back of the SL350 with u-clamps. Talk about a survivor, it's at least 43 yrs old and I still use it for plumbing parts, tools etc. I tried to put stickers on it whenever we got into a new state etc. (kind of like people used to do with their RV/Campers back in the '70s to show off were they had been)
Here it is, and you can still see the weathered and worn out stickers from Grand Tetons, Montana, Yellowstone and Vancouver, Canada.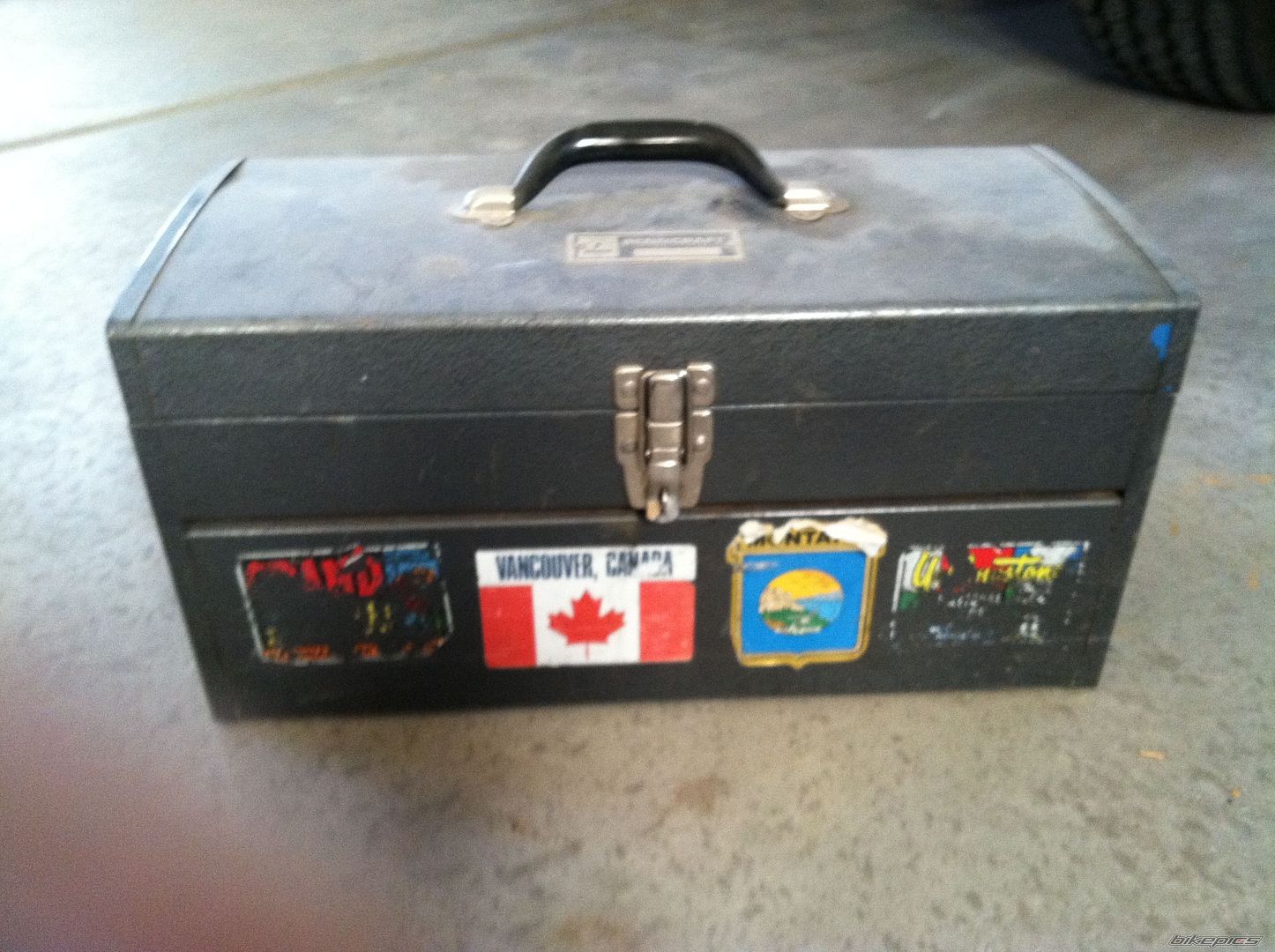 I did spend some time looking for a '71 CL450 in Candy Topaz Orange to duplicate the bikes we used for that roadtrip, but got impatient and ended up with a Strato Blue Metallic CL450 instead, much to my brother's dismay
Here's the Scrambler from my collection in that year (1971). I really like the sound of the 450 Scramblers, as they did sound quite raw even with stock mufflers.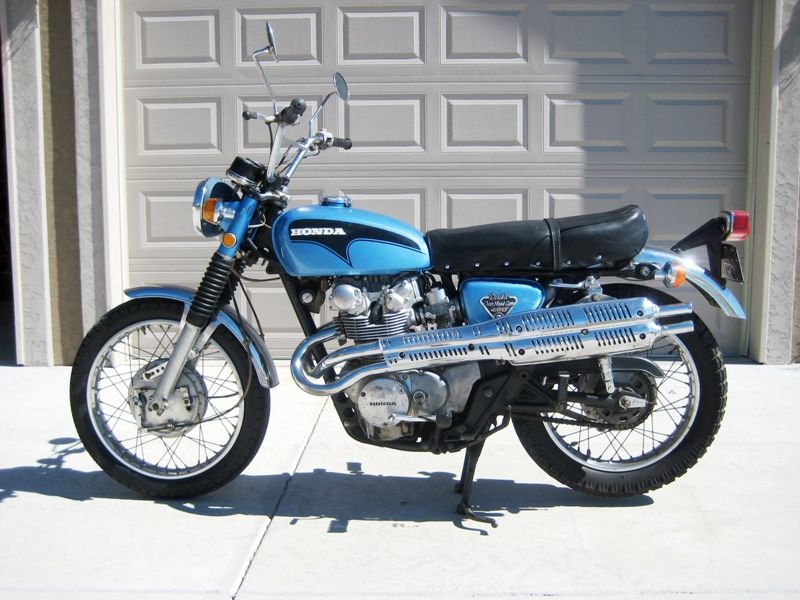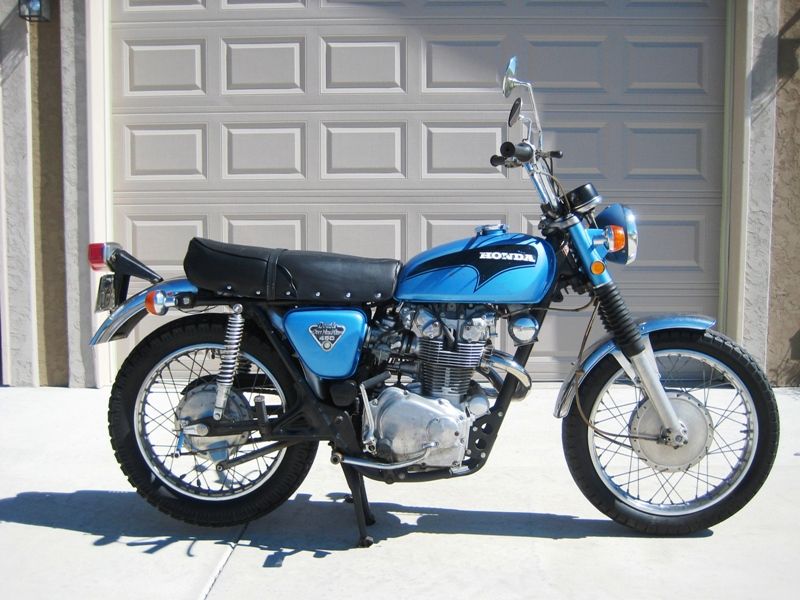 So to end this story...I got married that fall. My wife rode double with me and my brother, as well as just the two of us, for several years on the back of my '73 GT550 Suzuki. My brother moved up to a CB750 the next year and we had fairings on them as well. Getting married didn't stop our cross country touring as we enjoyed many road trips together. However when our first of 4 daughters was born in '76, that would put an end to those adventurous and carefree days! (pics from those trips riding two up, weren't any better quality than these, plus they're not Twins, so I'll spare you those stories.)

On a side note, I did teach my fiancee how to ride on my younger brother's S-90, back on the farm I grew up on, earlier in the summer of '72, just prior to leaving on this trip.
Here's a picture of her first lesson!




After relocating that exact bike almost 10 years ago, in very bad shape, I felt it was important for me to bring it back to it's original glory.
Here it is in 2012 being used for our 40th wedding anniversary photo shoot! Yup, same bike, same girl and me, a short 40 years later.






Today after no longer showing it, it is one of my most prized (at least to me) display bikes in my basement.